Gautama

buddha

was born in

Lumbini

,a place in Nepal nearly about 2500 years ago. His father was King

Suddhodana

, who was the leader of

shakya

clan. Buddha's mother was Queen

Maha

Maya and the capital of his empire is

Kapilavastu

. Buddha's life time ( 563 BC - 483 BC).
BUDDHIST FESTIVALS:

Buddhist New Year:
In
Sri
lanka
, Thailand, Cambodia ,Burma countries this new year is celebrated for three days from first full moon day in April month. In china, Korea ,
vietnam
New year is celebrated in late end of January or starting of
Febraury
month.
It is the major Buddhist festival celebrated for Buddha's birth ,
Enlightment
and death of Buddha. It's name
Vesak
denotes to the Indian calendar.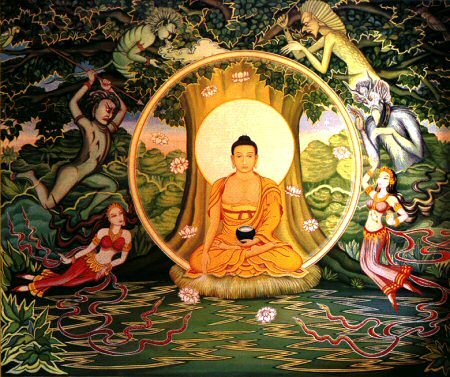 It is celebrated in the March month due to an important event which took place in
buddha's
life before 2500 years ago ,during the time of teaching.
Elephant Festival Day:
Buddha used an Elephant for the symbol of his teaching to the disciples who were joined
nwly
to
buddhism
. So this results in the cause of elephant festival ,which is conducted on every
september
month.
Ploughing Festival Day:
In every may month, during half
fullmoon
day ,two oxen ploughing a gold plated or painted plough with behind four girls ,who dressed in white scatter rice seeds from gold and silver baskets. This is because of
buddha
got
enlightment
at the age of seven ,when he first
visted
his farm field with his father. It is celebrated in Thailand.