A man from the eastern Germany state of Saxony man is so in love with his ailing cat that he has married her

black-and-white cat.Due to his pet affection ,he never leave that cat ,so he finally married his darling .But both them are look made for each other .SEE this foto u feel how the couples watching that women.
The two met some 10 years ago when he was vacationing on the Baltic Sea coast. The love between them was so strong that when the 39-year-old, who lives in Possendorf near Dresden, realised that his asthmatic and overweight feline friend would likely die soon, he decided to make it official.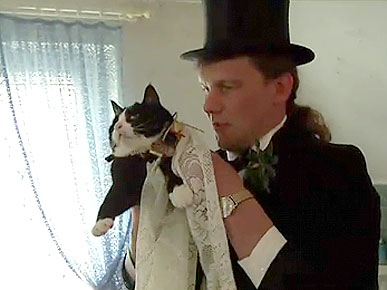 WHAT A LOVE WHAT A LOVE SUPPERMAMA..................