Jiuzhaigou means "nine villages" taking its name from the nine Tibetan villages found in the valley. The entire valley is filled with beautiful rivers, lakes, and is surrounding by snow capped mountains. It is considered such an important natural wonder that it is classified as World Biosphere Reserve.
LINK
Colorful Forest is something you can't miss. The forest is characterized by more than 2000 different plants, beautiful flowers, lovely grass and numerous rare species. In deep autumn, orange trees, golden yellow birches and red maples flourish in warm autumnal glory. In winter, the forest becomes a twinkling wonderland of grace and elegance.
LINK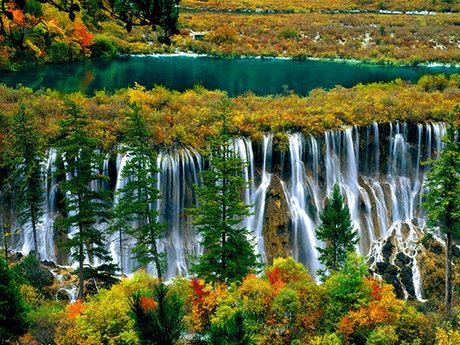 The main valley is 50 km (31 miles) long, and is where the Shuzheng, Qunhai, Rize, and Zechawa valleys come together. Most of the landforms are the result of glacial and tectonic activities that took place in ancient times. The soil content is mostly calcium carbonate. Waterfalls and streams link over 100 multicolored lakes of various sizes, many of which lie at the base of glacially formed valleys. These superb, natural mountain lakes are named "haizi" by the local Tibetans, which means the sea. More than half of the scenic area is covered in forests, bamboo and flowers and home to such rare animals as giant pandas, golden monkeys and white-lipped deer.
LINK