The Fountain of Neptune is a monumental civic fountain located in the eponymous square Piazza Nettuno, next to Piazza Maggiore, in Bologna, Italy. The fountain has a statue of Neptune on top, but just below him are four women, one on each corner of the fountain, leaning back, emphatically squeezing their bare breasts and launching an unholy squirt of liquid out of their nipples into the fountain.
LINK
The newest Weber sculptures to grace London's South Bank are engaging to say the least. The artist, Klaus Weber, a self proclaimed "Fountain Artist," pokes fun at the less attractive side of the human race in an eco friendly way.
LINK
Crown Fountain is an interactive work of public art and video sculpture featured in Chicago's Millennium Park, which is located in the Loop community area. Designed by Catalan artist Jaume Plensa and executed by Krueck and Sexton Architects, it opened in July 2004.
LINK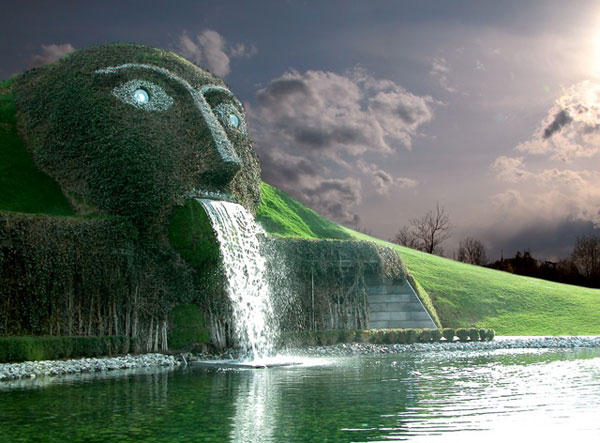 The Swarovski Kristallwelten, or Swarovski Crystal World, sits in the Austrian Tyrol like a jewel in a ring. If it looks like a fortress, that's no accident: In 1892, firm owner Daniel Swarovski shifted the entire company out of Bohemia (today's Czech Republic) to the wild & woolly Tyrol so that the tools and methods of the secretive company would remain firmly under wraps.
LINK
It looks Photoshopped, but this Magic Tap fountain actually has a pipe hidden in the stream of water. A clever idea, though not as impressive as my sawing a woman in half illusion. For extra realism I actually saw the woman in half. I think I'm wanted in like eight countries.
LINK