JOHANNESBURG, South Africa — A major South African clothing company has pulled T-shirts from its stores after complaints that slogans on the men's shirts were sexist. The shirts withdrawn by The Foschini Group had slogans including "How to get laid," and "I put the STD in STUD, all I need is U," the South African Press Association reports.
LINK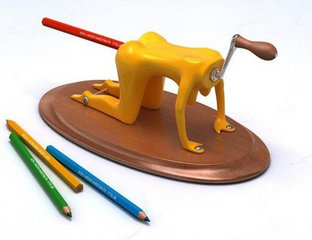 No home office is complete without the headless form of a naked woman on all fours with a pencil shoved up her ass. Or elsewhere.
LINK
Let Lusty Linda the Pen Holder (aka Mrs. All Busts) sun-bath on your desk. When you stick in a pen, she will moan, groan or say any of 10 different things. A switch on the bottom lets you set Linda's mood, from good or bad. (too bad all women did not have such a switch). Lusty Linda the Pen Holder says 10 different things including, "ooow (ouch)!," "Get out you, you dirty old man!," "What are you looking at?," "Help! Help!," and "Oh ooh (excited).
LINK
This offensive, horrid and sexist product is being sold in the Orange stores in the UK. Made by David & Goliath Tees.
LINK
Vajazzling is definitely one of the newest beauty trends which has raised a lot of controversy from people. For those of you who don't know it is the term given to the new trend in which the female genitals are given a sparkly makeover with crystals so as to enhance their appearance. You can buy different shapes and texts, such as this very questionable one.
LINK